Don't Take Aspirin To Prevent Heart Attacks, New Study Suggests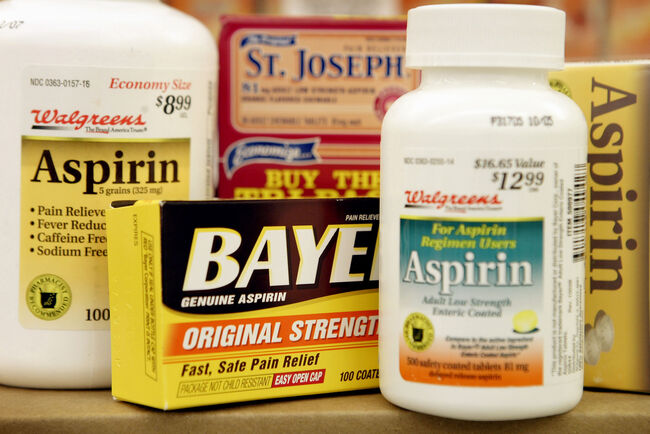 For decades, doctors have recommended that healthy adults take a daily regimen of low-dose aspirin to help prevent cardiovascular problems, but the American College of Cardiology and the American Heart Association reversed that position on Sunday after a new study showed little benefits, and could even cause harm in some older people.
"The most important way to prevent cardiovascular disease … is by adopting heart healthy habits and to do so over one's lifetime," Roger S. Blumenthal, MD, FACC, co-chair of the 2019 ACC/AHA Guideline on the Primary Prevention of Cardiovascular Disease said in a statement. "More than 80 percent of all cardiovascular events are preventable through lifestyle changes, yet we often fall short in terms of implementing these strategies and controlling other risk factors."
The large clinical involving participants from around the world found that a daily low-dose aspirin had no effect on prolonging life for healthy, elderly people. In fact, researchers found a link between the daily pills and major hemorrhages. The study, conducted over a four-year span, enrolled more than 19,000 people in Australia and the United States who had a high risk of dementia or cardiovascular disease. Half of the participants were given 100 mg of aspirin, with the other half given a placebo.
The trial found that 90.3 percent of those who took aspirin remained alive with no persistent physical disability or dementia. That compares to 90.5 percent of people who took the placebo. The rate of people who suffered from disability and dementia were nearly identical in the two groups.
New guidelines recommend that low-dose aspirin should not be given to adults to try and prevent atherosclerotic cardiovascular disease for those older than 70, or for anyone who has an increased risk of bleeding.
"Clinicians should be very selective in prescribing aspirin for people without known cardiovascular disease," said Blumenthal. "It's much more important to optimize lifestyle habits and control blood pressure and cholesterol as opposed to recommending aspirin."
Instead, doctors recommend that patients who have a high risk of cardiovascular disease to engage in regular exercise (at least 150 minutes per week) and maintain a healthy weight. Furthermore, adults should avoid tobacco (including vaping or secondhand smoke) and try to eat healthier by including more vegetables, fruits, legumes, nuts, whole grains, and fish, while limiting transfats, added sugars, red meats, sodium and saturated fats.
"Social determinants of ASCVD risk – and their impact on the patient's ability to prevent or treat risk factors – must be taken into account," the study authors added. "Clinicians need to consider patients' health literacy and education levels and assess patients' motivation to improve their lifestyle habits."
Photo: Getty Images